Taking Short or Long Camping Trips.
My wife and I are what you would call hardcore campers and we have been doing this for many years, in a number of different styles of recreational vehicles.
Over the years, we have taken our RV's to a lot of fantastic places, seen so many great parts of America and along the way we have also met so many interesting people.
With our years of experience, my wife and I feel comfortable enough to offer some advice that we feel would be valuable to those novice campers out there, who are just starting out on their own camping adventures.
As we have grown older, we often find it harder to take those months-long trips around the country in our RV as we have done so often in the past. Now we tend to concentrate our RV trip planning on making shorter trips where it is much easier for us to drive and still have a great time once we are at our destination campground.
Probably the most important thing we have discovered is that a short trip, even for a seasoned camping couple like ourselves, can be just as entertaining as taking a much longer one to some distant resort area.
We still take long trips in our RV.
In our travels, we have experienced nature's abundance in many of it's glorious forms around the country. We have traveled far and wide and enjoyed so many special sights that others only get to see in travel brochures.
Of course, many of the places you want to visit are a long ways from your home and they will require you to plan and take a long trip to get there.
For example, a few years ago, we made a trip across the country, with the trips goal being to show our grandson the fantastic Grand Canyon.
Now, I'm sure you've seen numerous pictures of this beautiful work of nature.
You have most likely watched big-screen, high-definition videos and movies of the Grand Canyon from one end to the other, in fantastic film productions, but they are no substitute for actually being there.
When we got to Arizona, we camped near there in a little town called Williams which is only about 25 miles from the Canyon itself. We stayed there for over a week and we had one of the great travel experiences of our lives.
Grand Canyon view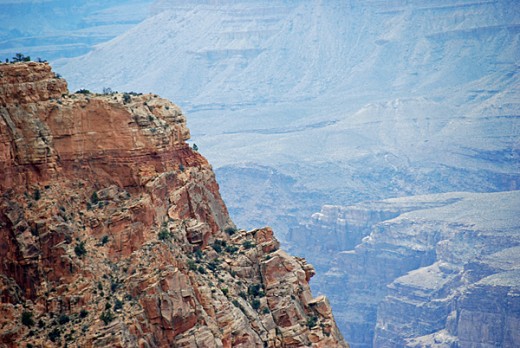 What we did on our long trip to the Grand Canyon
The great thing about staying for a week or more in your RV at such a site is the numerous things you'll have time to do. While we were only there we were able to;
Drive our tow car to dozens of overlooks and take hundreds of great pictures, of both the canyon and, of course, of us posing in front of so many awe inspiring sights.
We were able to see the canyon on sunny days.
We were able to see the canyon on a cloudy day. The area is a totally different place when it is rainy and windy. You have to experience it to appreciate it.
We were often able to stop and watch the wildlife walking around in the woods, ignoring us as if they were tame squirrels you find in a city park.
We were able to enjoy ourselves visiting the great stores and restaurants on the main drag of the town of Williams.
We met a great couple from California that we then palled around with for the remainder of our stay. We still trade jokes and emails with them now, years later.
We took a day to drive over and explore the town of Flagstaff, which is just a few miles away.
We visited several Native American sites and stores.
And, we were able to just sit outside our RV, at these high elevations and enjoy the volatile weather of the area, sipping on a glass of wine and swapping tales with our new friends.
This was a planned trip across the country, of course, and we did stop at a number of great places along the way, both going out there and returning home. But it was a pretty typical long RV trip, that I am sure many of my fellow RVers can attest to as being normal.
But next week, we're going to Orlando.
That's why I am writing this article.
It's that time of year, around Spring Break time, and we Floridians tend to get a lot more visitors during this time period of nice but mild weather.
Don't get me wrong, we do enjoy having family and friends visit us here in our little tropical paradise, regardless of the time of year.
But, we have also been planning our Summer hops around Florida for a while and our first outing in several months will be to our favorite Thousand Trails campground near Orlando.
The campground is a large one, mostly due to the number of people who come ther to camp and visit Disney World which is only about seven miles away.
Disney World is so close that you can sit outside your RV at night and watch the (nightly) Disney fire works from the comfort of your campsite.
We have stayed there often, over the years, and it has so many amenities to take advantage of.
And the best thing about just driving 70-miles to a campground for a two-week visit, is that we will spend very little extra money for this little vacation of ours.
So why go on such a short trip?
At this point, you might ask us, why we are taking our RV on such a short trip?
I have already mentioned that Orlando is only a little over 70-miles from our home near Tampa.
And yes, we could just drive there in our car if we wanted and then just stay in a hotel for a few days, right?
Some CHEAP Camping Tips
So, now that I have rambled on about my camping lifestyle, here are some tips for you to use so you can camp nearby and for very little money;
Purchase a Camping Membership
Go to RV Shows and get free camping coupons
Purchase US and State Park camping permits
Use Camping Discount Clubs
Visit nearby Campgrounds and ask for a discount
by Don Bobbitt, All Rights Reserved
Check out this great design! A picture of a Desert road near Apache Junction Arizona. It also has the following text framing the picture;
RAMBLING MAN!
Doing the Best I Can!
Click on the picture below and check this Zazzle product out, or select another Zazzle product with the design on it.