A writer's workspace in their RV
Any writer who decides to create while traveling in their RV has to also accept the fact that they will have a limited amount of working space.
I'm lucky enough that with my RV, I actually have a small flip-up desk, of sorts, where I work on my writings.
I actually have everything I need here; my PC, the satellite remote, and my evening glass of wine. And luckily for me, I have my wandering brain which is not constrained by my limited working space.
I've actually been writing about RV's in general and sharing Tips on RV's and the RV lifestyle on my Blogs and in my published books, for decades now.
When I write, I concentrate on such things as; RV designs, RV problems and solutions, as well as camping situations that most RV owners encounter as they travel the country enjoying themselves in this great country of ours.
So, Ive decided to write a series of articles that include my thoughts and comments about many of those things we RV owners feel are important to us.
My hopes are that you, the reader will enjoy these articles and hopefully even comment on them when you feel like it.
I also hope to have my fellow RV owners share even more information from their perspective, and yes, correct me when you feel I am wrong or have provided inaccurate information to the world.
by Don Bobbitt, All Rights Reserved
Below is a link to one of my special designs applied on products in my NULIVIN store managed by ZAZZLE.
This NULIVIN design, an open Arizona Desert Road along with the text; Wherever I Go, There I Am placed onto one of the popular Zazzle products. It is available in other sizes and colors and is also available on hundreds of other Zazzle products. Click on the Picture to see this great offering.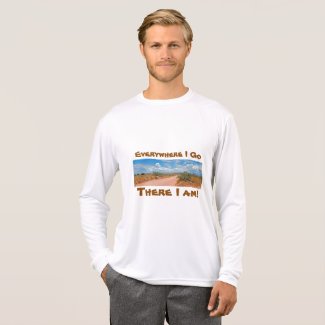 Copyright, Don Bobbitt, October, 2017, All Rights Reserved
The reader is free to enjoy this article and even share it with friends, but any commercial use must have the author's permission, in writing, beforehand.