Camping in the Keys
My wife and I are RV owners and we spend our spare time traveling around the US, finding interesting places to explore and generally just enjoying the wonders and people of this great country of ours.
A week ago, we drove down to the Florida Keys and landed in a popular campground called Fiesta Key, for what we hoped would be a long and casual stay in the tropics.
Being old hands at camping, once we arrived, it took us less than an hour to set up our camper on our site. Then, we opened a couple of cold beverages, sat back in the shade of our RV awning and relaxed, dropping into our "laid back" camping lifestyle.
Our plan was to enjoy a lazy month of; hot days, cooling swimming pools, beautiful tropical views, interesting Tiki Bars and the occasional fantastic Sunset.
We've been here before, you see, and we keep coming back because we really like this strange string of small islands at the southernmost piece of American soil.
We hear a lot of reasons from people for going to the Keys; but essentially, we find that for us the combination of tropical weather and fantastic fresh seafood, alone, are enough to bring us back regularly to the Keys.
The Overseas Highway
As I mentioned, the campground we are staying in is called Fiesta Key and it's located right at mile marker 70 on the Overseas Highway, aka US Highway-1.
Actually, US-1 is just one of the many older numbered US highways that crisscross America. This one, like the rest, was built using federal funds, and its construction was completed in 1926.
The highway travels North-South, from Key West Florida up to Fort Kent,Maine, stretching for almost 2400 miles and is always situated near the Eastern Coast of the US.
But, probably the most famous stretch of this road is called the Overseas Highway. This section of US-1 hops along the islands (called keys) from the southern tip of Key West Island, up to the mainland of Florida, near Homestead.
The highway actually starts at the now famous mile marker 0 which you can find labeled on a large red buoy sitting at the southern-most point of the island itself.
One of the first things a visitor realizes when they drive south along this road, heading down to the Key West island is the fact that there is very little land on these islands.
There are dozens of the islands, of course, but some are little more than a stretch of dredged land put there to build portions of the highway on. There are some of the islands large enough for small communities to exist.
But, have no doubt, when you look at a map, it's obvious that the Keys exist as an accidental string of islands just close enough to be linked by bridges.
There is no true industry on the Keys, other than tourism and a few retirement communities. Oh sure, there is some commercial fishing, and some small business', but the majority of the population is supported by tourism or retirement checks.
Don't get me wrong, there are some fantastic restaurants, Tiki Bars, fishing services, scuba services and such for a person to search out and enjoy, but again, tourism keeps the wheels turning in the Keys.
You see, the scarcity of land makes the cost of a house, condominium, timeshare or even just a small piece of land, is far too high for the average middle-class American to own.
And honestly, if you don't have a skill to offer the tourist industry, then the variety of available jobs is small and this that are available are skewed towards; waiters, waitress', bartenders, landscape workers, plumbers, electricians, and boat mechanics.
Sure there are other jobs, but very few jobs are available in any significant numbers that require other skills.
Again, don't get me wrong. Maybe the Keys might not be such a good place to look for a job, but it is a great area to run away to and relax for a fewdays; which again is what my wife and I are doing here.
Webster Definition – KEY
Key (noun) –
a low-lying Island or reef in the Caribbean, typically off the coast of Florida.
A Poker Run
The second day in our campsite, we drove down to Marathon Key, near mile marker 63, where there are couple of actual chain supermarkets.
We needed to pick up a supply of certain of our favorite vegetables, and a few other staples to hold us over for the next week, so we made a run.
While driving down the road, I found myself behind a group of several dozen Harley-Davidson motorcycles. I figured they were heading down to Key West, so I just sat back and cruised along behind them until I got down to the supermarkets.
Something you quickly learn while searching for places to go and do things is that almost all of the business' are situated right on the Overseas highway.
So we walked around complaining at the high costs of anything fresh, but we knew this would be the case wherever we found food and produce in the Keys. Like I said, we grimaced at the prices, but we paid the bill and then headed back North to our Campground.
It quickly became evident that something was different about the traffic.
Literally every 1/10 mile of road had a group of dozens of motorcycles on it, all heading South. Seeing this many motorcycles on the road, I guessed there was a Bikers Rally or some other such Biker gathering.
When we got to our campground, I decided to stop at the office and ask if there was some big biker celebration going on.
The clerk laughed and told me; "Oh, don't worry, it's just a Poker Run."
I had heard of these in our travels, of course, but I had never actually been near one. It turned out that this was a big one and there were thousands of bikers involved.
In case you didn't know what this is; a Poker Run is when a group of bikers ride together to a certain destination hoping to win money playing this strange game.
Along the way, they have designated places where each of the Bikers pulls off of the road and they are arbitrarily given a playing card.
Each biker makes either five or seven stops like this, and when they get to the final destination, in this case Key West itself, the bike rider with the best poker hand wins the pot of money.
In this instance, the bikers with four best hands win $10,000 each.
Many of these Poker Runs are often set up to make money for a charity, and they are very popular during the warmer times of the year. It's a great way for riding with fellow bikers, enjoying the weather, and having a day or more of fun.
Survival in a car during a Poker Run
Well, at first glance, these Poker Runs do sound like a harmless, and even at times, charitable event where anyone can ride their bikes, and have a little fun, right?
The problem for me is that with this particular Poker Run, it runs on from Friday to Sunday.
That means all of these thousands of bikers need places to stay. For many of them, the prices themselves drive the bikers back up the highway, away from the higher prices on Key West itself, for a good distance before they can find a room to rent.
I may have overstated the "problem" because my wife and I get by when we are camping near such celebrations. As I mentioned, we're just a couple of retired people, wandering out occasionally to; a restaurant or a Tiki Bar, or to walk the small and scarce beaches along the Keys.
A guide to the Florida Keys
Insiders' Guide® to Florida Keys & Key West (Insiders' Guide Series)
I purchased this book to jelp me find the right places to visit in the Keys that suited our lifestyle. It's a pretty good source of local information.
A form of Traffic Hell
If you remember, I mentioned that the Overseas Highway is the main road everyone has to travel on while in the Keys. There are no parallel major roads, heck, there are very few parallel streets.
In fact, when you discuss the Keys and things to do there, you'll find that people reference the location of everything by what mile-marker it happens to be near.
Also, when you plan your drive down to the Keys keep these facts in mind;
The majority of the highway is only two lanes except for a few areas in the larger villages where it can be two lanes with a center turn lane.
Make sure to fill up your gas tank before you hit the Overseas highway because there are not many fuel stations. This is more of a problem for people driving motorhomes and pulling campers because most of the stations that do exist are small and prices are higher than on the mainland.
Be cautious of vehicles along the road waiting to turn onto the highway. If you leave a decent gap between your car and the one in front of you most of those people waiting will pull out in front of you.
There are very few turn-offs along the highway. Land is too valuable to waste on wide shoulders and tourist pull-offs.
Use your signal lights and watch the other people in your rear mirror. Many of them have been driving for a long time and they are not as alert as they could be, so make sure you don't get hit from behind.
Watch out for fishermen and other pedestrians. The Overseas Highway has many places for fishermen to enjoy, but many of them are tourists, and there are no real road crossings that protect them. It's not unusual to have to slow down for a distracted fisherman trying to get to their car or favorite fishing spot.
Just accept the fact that in all probability, by the late afternoon or evening, some of your fellow drivers have had a couple of drinks. After all, it is the Keys, a place for partying, drinking, dancing and other forms of night-time fun.
My wife and I have learned to avoid these kinds of problems as best we can; we prefer to sightsee in the afternoons and get back to our campground before we settle down with a drink.
Fiesta Key Sunset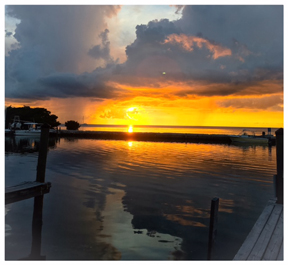 Driving a Tow Car around the Keys
Because of the number of motorcycles on the road, whenever my wife and I have gone out in the afternoons or evenings during the past few days, we often end up spending five, ten or more minutes waiting to get an opening and finally pull into the bumper-to-bumper traffic.
And to make this kind of traffic worse for us, we have a tow car we run around in which is 4-cylinder Kia Soul.
So, before you say anything, our driving reality is not "screaming tires" as we stomp on the gas to fit into a small opening in the traffic. We may stomp on the gas, but our little 4-cylinder engine needs a little more time and distance to fit into a traffic pattern.
There is no quarter given to those waiting to get onto the road along the Overseas highway and thinking about it from a safety perspective, that's OK with me. Imagine some courteous driver actually stopping on this 2-lane road and causing everything behind them to stop. The thought truly scares me.
We did what we had to, and we waited, often, but eventually we got wherever we wanted to be. I even have a couple of instances where we were slamming on our brakes when the traffic suddenly stopped in front of us.
It's funny, my campsite is probably 400-500 yards from the Highway, with a thick stretch of trees between me and the road. But, each day, around 8-AM the roar of un-muffled Harley-Davidson's starts and it doesn't end until after 10-PM.
But on Monday, they will all have disappeared; gone back to their jobs and homes somewhere further North.
And my wife and I? We'll be sipping our Margarita's, eating our fresh Seafood, and sleeping late, just because we can.
Ya Gotta Love the Keys!
by Don Bobbitt, September 22, 2016